What the Buck? Why Buck Owens and Dwight Yoakum's Streets of Bakersfield Should Be On Your Turntable
Okay, so you probably don't even have a turntable anymore. Don't shoot me, I do. I also live in a trailer and go to store with straw stuck in my hair and farmy favorites smudged all over my boots. I don't speak redneck with my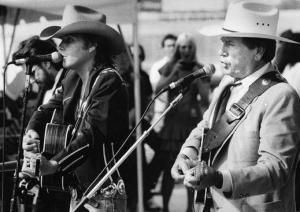 accent, but my people did, my cooking does and so does my turntable.
This is why you can take it from a transplanted Texan lost up in the Yankee wilderness of New England that Streets of Bakersfield is the best song ever written. If you'd like to fight me on that, take the chaw out of your mouth first. If you don't know what chaw is, you shoulda been around to ask my grandmother right after she spit it out into her red coffee can that trailed behind her wherever she went.
Why is Bakersfield the all time best, favorite song? Because, son, it is. Both gentlemen singers start out plaintively in the best tradition, holed up in jail. They've made a few mistakes, gotten locked up a bit, but are still on the good side generally speaking. Who hasn't been locked up a bit? The best homemade mashed potatoes I ever ate were in a jail in southern New Mexico. But, I digress.
The true reason that it takes the cake, in my mind, for great redneck, honky tonk music is because the singers
want you to know that even though they were in jail, even though they stole money from the drunk guy who fell asleep next to them, they are not truly thieves. They are still gentlemen in the sense of "gentle men." They leave the old guy they stole cash from their watch as well as the key to their house and head off to Bakersfield to find a new and better life.
Even there, you know they will still be misunderstood and wind up in jail or sleeping on the couch or a screened in porch or maybe even under a bridge, but they have pride. The pride of being poor and not having enough but even when you're locked up in jail, still trading on your good name by leaving some drunk guy who wouldn't have even probably missed the cash literally all you had in the world in exchange. Just to know for yourself and for any who listen to your song that you may be "trash" but you're honest trash.
There is no single song that can better explain the culture or the pride of the folks I grew up with. Yeah, we were a bunch of idiots sometimes (all the time?), but there was a sense of responsibility, sincerity and truthfulness that went beyond the bounds of whatever pickle we my have most recently gotten ourselves into. Add to that the fabulous accordion of Pancho Zavaleta and you have yourself my favorite defiant and lonesome, but still oddly upbeat honky tonkin' song.
Streets of Bakersfield
written by Homer Joy
Sung by Buck Owens and Dwight Yoakum
featuring Franciso "Pancho" Zavaleta on accordion
Buenas Noches From A Lonely Room
1988